Equipment and Products:
CRC uses state of the art CNC technology to provide its clients with the best quality and turnaround time available in today's market.
Biesse Machining Center
Biesse 346
Our Biesse 346 is a remarkable machine. Not only does it machine all our cabinet parts for confirmats, shelf pins and toekicks, it also does exceptional radius and angle machining. The accuracy on this machine cannot be surpassed. If you can draw it in AutoCad, this machine can cut it.
Schelling FW
A true panel saw is an essential part of any quality millwork operation. With today's materials, such as melamine and laminated products, a machine that can square the panel as well as cut from the top and bottom simultaneously, and chip free is required to ensure a superior product. Accuracy is measured in thousandths of an inch.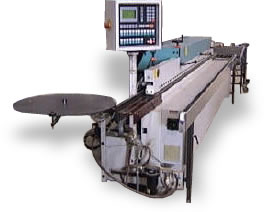 Holzher 1486SE Edgebander
Holzher makes some of the best edgebanders. No architectural millwork shop is complete without one. Our bander does an exceptional job with all types of PVC up to 3mm, and plastic laminates if no PVC is available. The glue CRC uses is stable up to 160 degrees Fahrenheit and holds up in the HOT Houston climate where other glues breakdown.
Drafting & Production Software
CRC/Mastercraft, Inc. uses several types of software. We are a licensed user of AutoCAD 2000. This is used for our drafting needs as well as being the first step in creating custom pieces on our machinery.
Biesse's proprietary software was purchased with the router. It takes a .dxf file and turns it into machine code, which the CNC equipment can understand. So whether it is radiuses, angles or a combination of both we can produce them accurately.
Pattern Systems software is used to generate all of our cutlists and machining directions for our cabinets. This process ensures that all reveals are exactly the same, and all drawers fit exactly the same throughout the project. Cutlists and machining directions are downloaded directly to our CNC equipment.